Vegan Shimmer Cream Blushes for Lips and Cheeks
SKU:
Width:
2.00 (in)
Height:
1.00 (in)
Depth:
2.00 (in)
Available in all 27 shades of Our Fabulous Blushes!  These are fantastic!  They are so smooth on the lips and the color payoff is phenomenal!  Our customers ooh and aah at the blend ability on the cheeks, but once on the lips... they yell GIMMIE!

Pictured in Dusky Rose Matte Blush and Barbie Shimmer Blush.

Ingredients: Organic Jojoba Oil, Organic Argan Oil, Candelilia Wax, Mica, Titanium Dioxide, Boron Nitride, Oxides
Amber is wearing the cream Tequila Sunrise on Lids, Lips, and Cheeks for a monochromatic look!  Isnt she cute?:)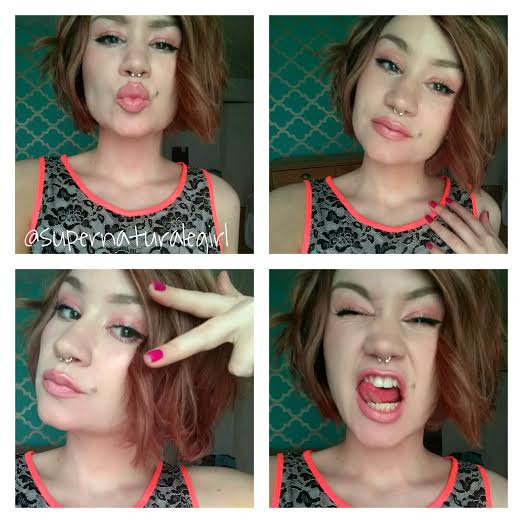 Reviews
I have finally found the perfect blush for me!

I purchased this blush and I must admit that I was worried it would be too dark for everyday use. Thank goodness I was wrong. I wear the med. beige warmest foundation and this blush is the perfect color for me. I apply it with a stippling brush and it gives the perfect amount of color for everyday use. I'm sure I could get a more dramatic look for night wear if I apply it with my fingers, but I haven't had a chance to test that theory.

I got the rose goddess and it is just beautiful. Next time I'm ordering the bubblegum. Thanks again for your wonderful products.

exactly what i have been looking for

this is the most awesome cream blush i have ever used. does not irritate my skin, gives a perfect glow, and a little bit goes a long way! LOVE LOVE LOVE. i have tequila sunrise and touch of peach i think. PERFECT!!! gonna get some more.

I would like to buy this again. Very satisfied with the product and the container. Thank you.

So far I own: Barbie, Peachy Rose and Bubblegum. Peachy Rose looks most natural on my pale, warm skin tone (slightly darker/more yellow than Porcelain Kissed by Honey, for reference). The warmer, dark peach undertones best mimic my natural flush. But Barbie and Bubblegum (very similar, both shimmers) are great for a "cooler", less matte look. I prefer the shimmer formulation of Bubblegum over Barbie, but that may just be a specific batch. All gorgeous colours! Lovely product that lasts all day.

I love this! It lasts all day and it has a nice shimmer to it. Very pretty :)

Soft, Smooth, Beautiful Colors

Have only tried one of the three I ordered and I love it! Goes on smooth, stays creamy, lasts, nice pigments can be sheer or strong. Used it on lips and cheeks. I like the small pots, so I can try more colors. The more I look at this website, the more I want to discard and start over with The All Natural Face. There are so many things I want to try! I'm a product junkie and I think I have hit pay dirt!

A cream blush that is natural and have good color and staying power.

Great on cheeks; decent on lips

I currently only have Barbie (shimmery) and use it every day. I love applying this to my cheeks with fingers. The "dry" cream formula stays on for hours and the shimmer looks natural. On lips, it does look a bit chalky, as people have mentioned, but it has enough pigment to tint the lips before or after balm. Beautiful color on fair skin :) Just ordered more shades in matte.