Vegan Shimmer Cream Blushes for Lips and Cheeks
SKU:
Width:
2.00 (in)
Height:
1.00 (in)
Depth:
2.00 (in)
Available in all 27 shades of Our Fabulous Blushes!  These are fantastic!  They are so smooth on the lips and the color payoff is phenomenal!  Our customers ooh and aah at the blend ability on the cheeks, but once on the lips... they yell GIMMIE!

Pictured in Dusky Rose Matte Blush and Barbie Shimmer Blush.

Ingredients: Organic Jojoba Oil, Organic Argan Oil, Candelilia Wax, Mica, Titanium Dioxide, Boron Nitride, Oxides
Amber is wearing the cream Tequila Sunrise on Lids, Lips, and Cheeks for a monochromatic look!  Isnt she cute?:)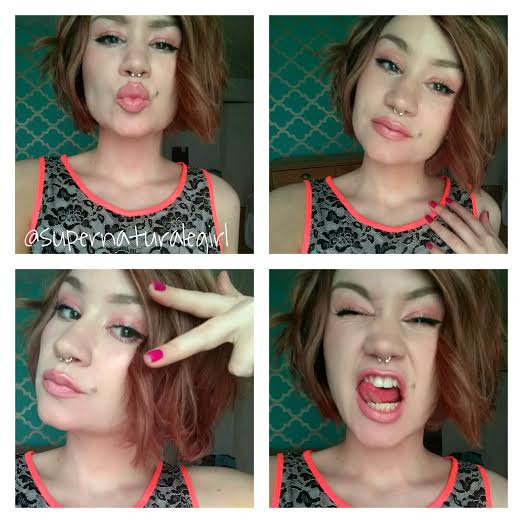 Reviews
I couldn't choose just 1 so got 3! I love them all! Very creamy and easy to blend. I use them on my eyes, cheeks and lips. Very natural looking.

Love the color, and it goes on smoothly. It's nice how it can be used for your lips as well. And of course I love how it's all natural!

The packaging does not come with a mirror as it shows in the image and you do have to work a little to get some color

Really enjoy this. Perfect color pink. Smooth application and stays on. Very impressed.

I love that these are versatile for lips and cheeks. They are cream so they travel great! I expected them to be a little more creamy. They are a little firm but as you rub your finger over it, it warms up for easy application. I would definitely recommend these!

I have been ordering from the all natural face for a couple of years now. I have never been disappointed in any of the products! The quality, quantity, and the price is unbeatable! I had normally used their mineral powder blush but thought Id try this. I absolutely LOVE it! The color is so pretty easy to apply and very buildable! I just love the fact there are NO bad chemicals in these products and they actually help your skin! I highly recommend this blush!

Love this blush. I was worried this might be to sparkly- but it's actually just right. Gives a lovely soft colour and a delicate highlighted look to the cheekbone. I've not tired it on my lips, but I'm sure the colour and texture would be great for that too.

I bought the bubblegum.A lovely medium pink.A perfect blush for the winter. Moisturizing and creamy. Very smooth look and non irritating.Will repurchase.

Bordeaux great color for my medium olive complexion

I really love how long this lasts on my lips and it feels good too. Really love like this color. It's great I can use this on cheeks and lips saves space.