Vegan Shimmer Cream Blushes for Lips and Cheeks
SKU:
Width:
2.00 (in)
Height:
1.00 (in)
Depth:
2.00 (in)
Available in all 27 shades of Our Fabulous Blushes!  These are fantastic!  They are so smooth on the lips and the color payoff is phenomenal!  Our customers ooh and aah at the blend ability on the cheeks, but once on the lips... they yell GIMMIE!

Pictured in Dusky Rose Matte Blush and Barbie Shimmer Blush.

Ingredients: Organic Jojoba Oil, Organic Argan Oil, Candelilia Wax, Mica, Titanium Dioxide, Boron Nitride, Oxides
Amber is wearing the cream Tequila Sunrise on Lids, Lips, and Cheeks for a monochromatic look!  Isnt she cute?:)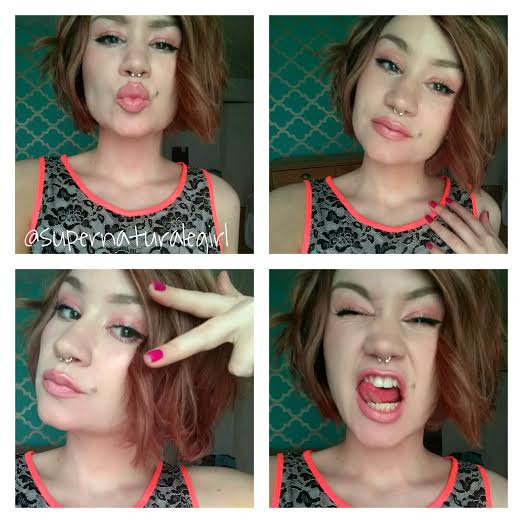 Reviews
This blush is the bomb! Moisturizing creamy formula.Buildable. Love it.Large color selection and reasonably priced.What more can I say? I have repurchased many time and will again.

Tequila Sunrise-High End Dupe!

This shade is a beautiful peachy pink. No chunky glitter, and doesn't emphasize pores. More of a dewy sheen. Definitely a dupe for a high end brand like everyone says, but better quality and healthier ingredients.

excellent product encore from the all natural face. together we are! your products are so long lasting i rarely need to buy. what not a waste!

Love it!

I love this product. It goes on smoothly and blends beautifully! The color is subtle.

Vegan Shimmer Cream Blushes for Lips and Cheeks

This cream blush has a gorgeous shimmer that provides a natural glow. It's never sparkly. I chose Tequila Sunrise, which is a perfect dupe for a famous high-end blush that costs considerably more. I use this as a blush only; it lasts beautifully all day under the Angel Wings Vegan Mineral Veil. I highly recommend this product and I plan on buying several other colors as well.

vegan shimmer cream blushes for lips and cheeks

I bought 3 colours, Dusky Rose, Antique Brick and Rose Goddess. Great formula! Goes on smooth and easy to use a blending stipple brush on the cheeks. Goes smoothly on the lips and slightly moisturizing. 2 colours were matte and the Rose Goddess has a lovely shimmer - not noticeable on cheeks but LOVE it on the lips! A touch of your sample gloss you included - colour Rockin Rose, really gave me the perfect colour! Very slightest of a sweet scent that quickly dissipates. I noticed that one of the blushes was a bit 'tackier' or stickier, but still performed very well! I love these! :D

Amazing cream cheek color!!! Truly stunning and goes on perfectly ❤️❤️❤️

I will use this cream blush forever along with the touch of rose powder blush. I use the light beige warm powder and cream makeup ( can also use the olive warm). I have very fair skin, dark hazel eyes and dark brown hair and the rose shades look the best on me. Hope this helps with your decision.