Vegan Mineral Eyeshadow - Cherry Bomb
SKU:
Width:
2.00 (in)
Height:
1.00 (in)
Depth:
2.00 (in)
Vegan mineral eyeshadow with sifter seal included in the jar. We strive to keep our products pure, so you won't see any irritating ingredients or the stuff you want to avoid that is in most commercial mineral makeup.

Mica makeup ingredients: Mica, Magnesium Myristate Boron Nitride Oxides.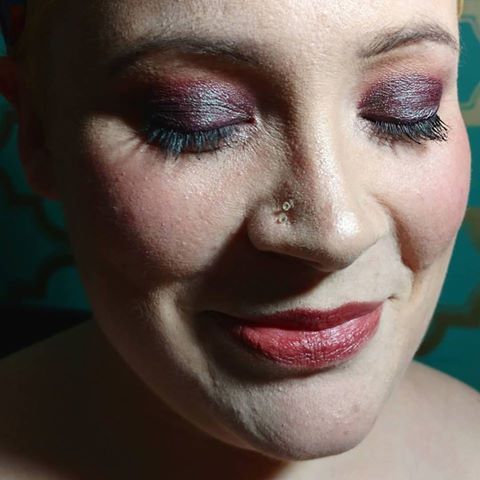 Reviews
This is the most beautiful color to grace my eyes. It has a red green shift, it is amazing.

Great duochrome that's VEGAN!!

I love the shadows that the all natural face has been putting out. This shadow is unique because it has a red undertone but shifts blue and green. It will look different under different lights. You can't really go wrong with this one. A+++

Ive been using this color for a while now and I love it!!It stays on all day with one application! I have blue/Hazel eyes and it just makes them pop! I love all of The All natural face make up!

I wear this color everyday! I love it!! Goes with everything and makes my hazel eyes pop!I wear this as a eyeliner as well! This color last alday and you get so much product for the price!!

Not sure if it's just my personal preference, but I found this color to be a little weird. I wasn't a fan of the duochrome shimmer. The shadow is a burgundyish color but the sparkle is almost kind of blue. I thought that was kind of weird, and after I put it on I realized I didn't like the color I'd blended into my upper lid because it didn't look good with the blue. As an aside, the color wasn't nice with my skin tone. (I wear Ivory Rose foundation) If you like the idea of the bluish shimmer with the maroonish shadow, you may love this, but it wasn't for me.

Favourite eye-shadow ever

I love this eye-shadow so much. My favourite of all times, this is beautiful, highly pigmented and I love the duochrome effect : a brown base and green shimmer. Absolultly beautiful!

My favourite colour from the shop, just amazing!! Hoping in some more duochrome colours in the future!